Friday night I went out to Floore's Country Store to see Eleven Hundred Springs. It was a pretty good show, although I was disappointed that Steve was playing an electric bass instead of his usual stand-up. Along with their normal setlist they played an amazing version of Orange Blossum Special and a few other surprise covers, including an Elvis tune. During their break I asked Matt what the chances were that they would ever play "Illegal Smile" again. Based on his response, I doubt we will ever heard EHS perform that one anymore. I set my alarm Saturday morning for 9am so that I could join the band for their float down the Guadalupe. I woke up when the alarm went off, considered the cold water and almost certain sunburn, then went back to sleep for another 5 hours.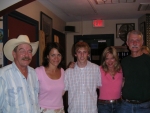 On Saturday Elana Fremerman, of Hot Club of Cowtown fame, was playing with Cindy Cashdollar and Doug Davis at the Pacha Coffeeshop in Austin from 6-9pm. I'm a huge fan of Hot Club, so there was no way I was going to miss this. I arrived there around 6:30 to find a slightly crowed room with the 3 musicians right in the middle. I ordered a smoothie and found a place to stand where I could see the musicians. They played for about 30 more minutes and then took a break. During the break this older guy named Mel found a chair and sat down next to me. We started talking, and as it turned out he was from Sacramento California, but was in San Antonio visiting his sister. He received the email newsletter from Elana that morning and decided that he had no choice but to drive up to Austin for the show. This guy knew more about music than anyone I have ever met, and we ended up talking for a long time. He had looked at the setlist and said that there was a song titled "South" on the list. Apparently this song was written in the 30′s by a man named Ray Charles (not the blind pianist), and is pretty rare. Mel said that Chet Atkin's performed it on an LP titled "A Session with Chet Atkins", but that album has never been produced in CD form. Mel also told me how Bob Wills performed the song on what is called "The Tiffany Transcriptions," which has an interesting history. Anyway, Mel was very excited to see that this song was on the list, so when he asked them to play it I had my camera ready, here's the video of Cindy/Doug/Elana – South. I also was able to record another song, but I ran out of drive space with about 15 seconds left in the song, but the video is here anyway. When the show was over Mel and I took pictures with Elana, Cindy and Doug. Elana and Cindy are forming a new band called Speedin' West with Redd Volkaert and Jake Erwin. I was upset to learn a few months ago that Hot Club was breaking up, but after seeing Elana and Cindy play together, I must say that I think there is something even better on the way.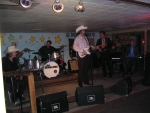 As if that was not enough music for a single 24 hour period, before I left San Antonio I checked Pollstar to see who else was playing up there last night. After all, the Elana show was scheduled to end at 9, which is just about when everyone else starts playing. Sure enough, The Derailers were playing at The Broken Spoke. It had been several months since I had last seen Brian and the gang, so I figured I might as well stop by and see the show. I had never been to The Broken Spoke before, but now that I have been I do not think I care for it as a music venue. The space is totally geared for dancers, and it's difficult to see the musicians if you aren't out on the dance floor. I watched the show from the side for about an hour and then decided to make my way back home.
All in all, a great weekend of music.