For the past 10 years I have only really owned and driven two vehicles: a 1988 white Nissan pickup truck, and a 1994 blue and white Ford F-150. Neither of these vehicles had working air conditioners, and both were used and/or wrecked before I got my hands on them. Not having air conditioning in a vehicle doesn't mean much to people who live in yankee states, but having spent a year in New Orleans and two years in Texas, it was beginning to mean something to me. Still, it wasn't the driving factor for my decision to finally give up the trusty Ford. Indeed, it was the ridiculously high price of gas that caused me to look elsewhere for truck-love. Spending $250/month on gas is just plain aggrevating. This will not stand, man!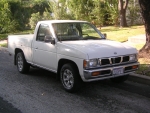 I wasn't really looking for anything, but a few weeks ago a guy at work sent out a message to the staff email list advertising a 1996 white Nissan pickup for sale, and relatively cheap too. Having previously owned one of these little trucks, I know how good they are, so I quickly wrote him back and arranged to have a look at the truck. The truck was in great shape and the price was right so I once again became the owner of a white Nissan pickup. The best part? After 10 years of driving in the heat, I finally own a vehicle that has air conditioning. No more sweating on the way to concerts in Austin, no more fearing summer road trips, no more wishing I had A/C!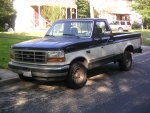 But along with all that frosty happiness comes a little sadness as well. It makes no sense to keep two trucks, so I had to sell my beloved F-150. Despite its cooling deficiency, I really loved this truck. My Dad came across it when I was in my senior year of college after I neglected to put oil in the previous little white Nissan for, oh, a year or something (that was a lesson learned the hard way, sheesh). The old Ford saw me graduate college, towed all my personal possessions to New Orleans and back, carried me through the snowy Virginia winters, and made a heroic effort to get everything out here to Texas in the dead of summer (without question, those were the hottest 4 days of my life). It has been an extremely good truck, and I can't say enough good things about that model of the Ford F-150. But, I guess at some point everything must move on.
As part of an incentive to sell the Ford, I sent out a staff email and offered my iPod mini along with the truck if I had a buyer before the weekend. Apparently iPods can be used to sell anything, in case you were wondering. Within an hour I had several inquiries, and a little over 24 hours later the title had been signed over and I had cash in my hand.
"Cash", you say? Yes, and what does a person do when he no longer has an iPod, but has cash? He drives to the nearest Apple Store and buys a new one, of course.
This time I opted for the recently released Video iPod. I've had two iPod minis and they were great, but I bought them for the size, not the price. Previous iPod models were just too big, I wanted something I could fit in my pocket. When the new iPods came out I heard that the 30GB model was much smaller, and upon visiting an Apple Store I was excited to see that this was true. In fact, its even thinner than the mini was. So, with all the cool new features and smaller size, I opted for the traditional iPod instead of the much smaller iPod Nano.
I've only played around with it for a few minutes so far, but I am already impressed. The only issue I have encounted involves playing "muxed" mpeg files on the iPod. I was trying out Podner for converting movie files into iPod size videos, and I found a FAQ on their site regarding the muxing issue. This macworld thread also discusses how to convert it into a non-muxed video. I don't know anything about audio or video formats, so this is all new to me.
Sleepy now, good night.