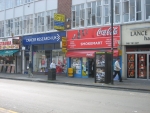 I arrived in London yesterday morning, after a 9 hour flight from Houston. I managed to get the only window seat on the plane without a window, but not a big deal.
When I was walking to my hotel in the city I noticed the picture to the right. Click on it to see the full irony.
Today I taught two classes on DNS to several Rackers here in the UK. The Rackspace UK office is amazing, I would love to work in an environment like this. Now I know why Rackspace UK was ranked 6th best place to work in the UK.
Tonight some of the Racker's here are going out to dinner with Jason and me to a Turkish restaurant. I'm trying to remember to take pictures, but I've never been very good at that. I'll be uploading pictures into my Europe 2006 gallery whenever possible.
Cheers!