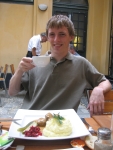 We finally made it to Stockholm late Tuesday evening, after spending 19 of the previous 24 hours on trains. Once there the hotel information center told us a familiar story: there is a convention in town and all the hotels are fully booked. We asked them to check again, and they came up with a single room available for a single night at the Hotel Kristineberg. Book it, thanks.
Wednesday morning we walked around downtown Stockholm and saw the sights. We accidentally ended up at Stockholm Palace just as the changing of the guards procession started. It was a very cheerful event, with upbeat, happy horn music. We also visited the nearby Armory Museum. A little later in the afternoon we stopped for lunch and had authentic Swedish meatballs, which were incredible.
Until this point in the trip the weather had been absolutely perfect: cloudless blue skies and temperatures in the mid to upper 70′s. Just as we finished lunch it began to rain a little, but it wasn't a big deal for us because we had Swedish massages scheduled at the Central Badet spa, which was next door to the restaurant. My massage was excellent, although I don't think Jason was as happy about his. (he got stuck with some really old guy, while I got my massage by a 24 year old blonde Swedish hottie who just happened to be a former professional skiier, poor me!

) When we came out of the Spa the rain had pretty much stopped, although it drizzled for another hour or so, and it has been blue skies ever since then.
That evening we caught an overnight train to Oslo, Norway, and we arrived there early Thursday morning. Want to guess what the hotel information center told us? "There is a convention in town. All hotels are booked. Sorry." Long story short, we are getting pretty good at scrambling to find a place to stay in foreign countries (in this case, the Soria Moria).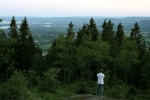 We spent that afternoon walking around downtown Oslo and visiting the Norwegian National Gallery. This is the gallery that is home to Edvard Munch's famous "Scream" painting, Auguste Rodin's "The Thinker" statue, and lots of works by Monet, Picasso, Munch and many other well known artists.
Wednesday evening we met up with Andy Hanssen for dinner at Bippat Sentrum. I've known Andy for a while through his work in the qmail community and as the author of BincIMAP, so when I started planning the trip I emailed him to see if he was going to be around. Andy is now a developer of QT at Trolltech, which from his descriptions sounds like a really cool place to work.
After dinner Jason and I headed down to the docks, which turned out to be a bustling place with lots of restaurants. Finally we headed back to the hotel and took some pictures of the beautiful hills/mountains.
It is now Thursday afternoon and we are on a train back to Copenhagen. We have finally learned our lesson, and have pre-booked a place to stay for the next two nights at the House of Colors.
We are having a great time and are moving around fast, which is fine with me. I have posted my pictures of Stockholm (the land of beautiful people), and Oslo.