After missing a train connection in Goteborg we finally arrived in Copenhagen late Friday night. We took a bus to the House of Colors, a bed and breakfast operated by Gitte Kongstad. This place turned out to be really neat. We had the entire second floor of her house, including a living room, kitchen, bathroom and of course a bedroom. She provides free bikes for all her guests, as well as tv's, computers, and wireless access. She also let us do a couple loads of laundry, and recommended local restaurants and bakeries to visit (she also asked us to pick up some skim milk for her while we were out

)
Before beginning our sightseeing on Saturday, we went to the nearby bakery to experience the famous Danish pasties, which were excellent. Afterwards we picked up a couple of Gitte's bikes and headed towards Stroget, a large street in Copenhagen that we had heard was a big attraction. As it turns out, its mainly a tourist trap with lots of big American shopping stores. We did not stay there long, and quickly headed over to the Danish Design Museum.
The Danish Design Museum was small, but interesting. They had an exhibit/store downstairs called the FlowMarket that seemed like something Brett would create. It was like a grocery store, but all the products were white or silver with single words or phrases printed on them. There were pill bottles with "Pause" written on them, buckets with "holistic thinking", "meaningfullness" and "sustainable innovation", and milk cartons that said "1 minute for reflection." It seemed somewhat similar to Oblique Strategies. There were some other interesting designs related to work as well.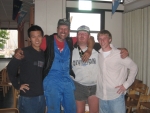 That night we visited a local restaurant near a harbor that Gitte suggested. When we got there the place was mostly empty, except for two mostly-drunk local sailors/truck-drivers/who-knows that were at the counter talking with the waitress, in Danish of course. After a few minutes the three of them finally noticed us standing there and they all gave us an intense stare. I asked the waitress if she spoke English, she said "a little" and asked what we wanted to order. The mostly-drunk guys were still focused on us, so I turned to them, smiled, and asked what them what they recommended. Suddenly they were our buddies and through translation with the waitress we ordered their suggestion (we still had no idea what it was). She asked what we wanted to drink, and the guys busted out with "Karlsberg!" The waitress asked small or large, I said small, and then the mostly-drunk guys went crazy with "small! small is for girl! you girl? E – I – E – I – O!!!" After awkward laughs, Jason and I walked outside to a picnic table and waited to see what we had ordered. As it turns out, we had ordered some of the best pork chops I have ever eaten, along with salty boiled potatoes. The meal was excellent, so afterwards we went back inside to say thanks to the drunkards for their recommendation, and to get the waitress to take a picture. We talked with the guys for a few minutes, then headed back to Gitte's house to pack.
I've posted my pictures from Copenhagen in my Europe 2006 gallery.