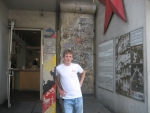 We got to Berlin Sunday evening and found a hotel from the information center at the train station. The main train station in Berlin is very new and is quite a place, its almost like a shopping mall that trains happen to pass through. Once we checked in to the hotel we walked around to find a place to eat. The place we found was in a locals area and was very good. The sign above the entrance said that the place has been there since 1270, which just seems outrageous for an American.
The next day we visited the Checkpoint Charlie Museum which documented the history of the Berlin Wall. There wasn't much substance to the museum, although there was a piece of the wall out front so we took some pictures. Our train to Prague was scheduled to leave at 3:30, and so we didn't have much time in Berlin. I wish we had planned for more time there because it seems like a really cool city now. It's hard to believe that it was still separated just 17 years ago.
On the train to Prague I met this interesting Korean guy named River, who was traveling with a friend of his. He has traveled all over the place, and has quite an interesting perspective. River and I talked for about 2 hours, until they exited at Dresden.
Our train to Prague arrived around 8:30 pm on Monday night, and at that point we started trying to find our hotel. At this point, let me give a little background information on this hotel.
Several months ago my credit card company sent me a voucher for 3 free magazine subscriptions. Of the available choices, I picked Time, Wired, and Travel & Leisure Magazine. Just as I was finalizing the plans for this trip, I received a new issue of Travel & Leisure with that month's focus being "Hotels in Europe." I thought this was perfect timing, so I looked through it to find the cities I would be visiting, and see which ones I could afford. All the ones for the bigger cities were very expensive, but the one they listed in Prague seemed very nice. They suggested the three star Hotel Jasmin. I checked out their website and it looked like a good place to me, so when Jason and I arrived in Berlin on Monday we found wireless access and booked a room in Prague (they offered large discounts if you book online). I was excited about this, and we finally were going to be able to stay two consecutive nights in the same room. Ok, so back to the story…
So when we got to the train station we changed some money and stopped at the information center to get a map of Prague. We asked the guy where we could find the Hotel Jasmin, but he just looked at us with a blank stare and said "I've never heard of that hotel." We had the address, so with his help we located the street it was on and how to get there via 2 subways and a bus. When the bus dropped us off we had a ways to walk, and at some point there ceased to be street lights. Walking along a dark and curvy street in a somewhat-sketchy part of town, this was pretty much the only time so far I have felt a little comfortable. We could not find the hotel on the street, even though we had its exact address. Finally I asked a woman who was walking her dog. At first she ignored me, then later she just pointed in a direction down a hill and through some apartments. So we went that way and up to an apartment for light to read the map. Another lady was walking her dog so we asked her as well, and she pointed us further down the hill. Finally we found the place, on a completely poorly lit different street. The front clerk (still not identified as male or female) seemed to be annoyed with the fact that he/she was going to have to deal with us. After being as polite as possible, filling out paperwork, presenting passports we finally had a key to room 104 in building A, and the clerk told us to pay one day before checking out. After walking in the direction we were told, we noticed a building labeled "3″ rather than A, and our key worked. Our room was like something out of a movie about the cold war. There were 4 walls, 2 small hard beds, a bathroom and shower with broken tiles on the floor, and drunk people loudly conversing outside the window. This was not what I was expecting from Travel & Leisure Magazine.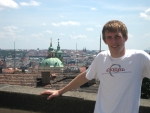 Enough about the crappy hotel room for now. After settling down we noticed that there was a wireless network available, but my laptop was not getting an IP address or anything from DHCP. After watching tcpdump and trying to connect to ports on several IPs we saw, we finally figured out the (random) gateway address, assigned ourselves an IP and were on the 'net. There were all kinds of Fedora Linux machines on this network, and a Windows box with several open shares (mostly full of warez). Once we were on this network we immediately connected to the VPN to avoid having any shady neighbors from snooping traffic.
The next day we set out to see the sights in Prague. What we found was that most of the famous attractions are really just huge tourist traps for Americans, much like Stroget in Copenhagen. We walked around, crossed Charles' Bridge, and climbed our way up to the Castle. For lunch we had Gulash, which is actually pretty tasty. That evening we checked out the area around the Dancing House and found dinner. Afterwards we traveled over to Wenceslas Square and finally headed back to the dungeon to begin packing.
While packing (around 1:00 am) we remembered that we still needed to pay, so we went to the office only to be turned away at the door by the genderless clerk. After explaining that we had to leave at 7am to catch a train, and just generally begging to let us pay, he/she/it finally let us in. As I pulled out my visa card the clerk said "no visa, no credit cards." Uhm.. what? I asked about travelers checks, no-go there as well. This was problematic as Jason and I had spent the last of our Czech cash on a coke and milkshake before heading back to the hotel. The subways were closed, and there were no ATMs anywhere nearby. We were planning to leave at 7am the following morning to catch one of the only 3 trains to Munich, so going out in the morning wouldn't work. We had about 90 euro left from Berlin and we asked if they would accept that, and fortunately they did. What kind of hotel operation only accepts cash? And why is Travel & Leisure Magazine recommending this place?
Altogether, our stay in Prague was not quite what I was expecting. Along with the generally unpleasant locals and shopkeepers, we also were forced to pay $50 in fines to the subway police for a dumb tourist mistake. No leniency at all. I probably won't be returning to Prague, and despite our friendliness there, it seems they would rather we not return as well. Oh, and they don't want you to visit either.
We are on our way to Munich now, which is familiar territory for me. I visited Munich 5 years ago for almost a week and had a great time. After Prague, things can only go up. Here are the pictures from Berlin and Prague.