After an extremely hot and exhausting train from Prague, we finally arrived in Munich Wednesday afternoon. Our first stop was the Hotel Europäischer Hof, where I stayed 5 years ago when Brian and I came over for spring break. I knew that this was a nice place, and we really did not want another hotel experience like the one in Prague, plus the HEH is directly across the street from the train station so that made it easy.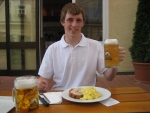 Wednesday night we walked around central Munich. With Germany hosting the World Cup this month, there were people from everywhere and many places were very busy. We stopped by the famous Hofbrauhaus Wednesday night but there was some World Cup game on all the televisions and the place was just crazy with soccer hooligans.
We had read about the meals and brewery at the Andechs monastery, so on Thursday we decided to check that out. It took us a while to actually get there (and we missed the tour), but once there we ordered up some gigantic pieces of pork, german potato salad, sauerkraut, pretzels and of course some of the monk's own beer. I had an Andechser Apfelweisse (apple), and Jason had a Andechser Spezial Hell. My beer was extremely good, and left my head buzzing for the rest of the evening. We also tried to go to the BMW museum that morning but it was closed for renovations.
There are two foods in Germany that I really love: wiener schnitzel and apple strudel. I ate snitzel every chance I had, but it wasn't until Wednesday night that we finally had some strudel, and it was totally rad. Can you dig it?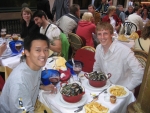 Friday morning we took a train to Brussels for one more night so that we could catch our EuroStar train back to London on Saturday. When we were in Brussels the first time we noticed everyone was eating mussels, so this time we decided to try them as well. We found a nice place and we each ordered a kriek and mussels marinated in white wine. Excellent!
Before leaving Brussels we stopped by Mary's Chocolate's to pick up some treats and gifts. Apparently Mary's is where the royalty buys their chocolate, and there were pictures of several national leaders on the walls.
We are now on the EuroStar train headed to London so we can catch our flights tomorrow. This has been a great trip, but I am ready for my own bed again.