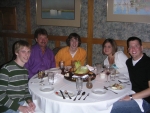 Recently I spent a few days out in Las Vegas and San Francisco. It was my third trip to Vegas this year, and my first trip ever to San Francisco.
I flew out to Vegas to meet up with my dad, step brother and step sister, who were there for NACE, an autobody industry conference that my dad usually attends. We started the trip off by seeing Mystere, a Cirque Du Soleil show at Treasure Island. I saw Varekai earlier this year, so when dad asked about things we could do in Vegas I suggested that we see one of the Cirque shows. As expected, Mystere was incredible. I really have no idea how humans are physically able to do some of the things that are done in a Cirque show, its just amazing.
Scott flew in late that night and I met up with him at the Luxor, where he and I were staying (I won't bother linking to thee Luxor website, since it is one of the most tacky and outdated sites on the Internet). They didn't have wireless, but fortunately I brought along my Airport Express and saved the day.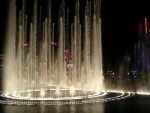 The next day we made the requisite pilgrimage down the Las Vegas strip. It was the first time Scott and Kathryn had been to Vegas, so there was plenty to see, including the fountains at The Bellagio. Afterwards dad took us to his favorite restaurant out there, a little out-of-the-way place called The Tillerman. This was without a doubt one of the most impressive meals I have ever had. If you are ever in Vegas and do not mind spending a little extra on a fantastic meal then be sure to check out The Tillerman. Oh, and make sure to try their Creme Brulee.
Dad, Colin and Kat flew out early the next morning, and Scott and I spent the day roaming around the casinos on the strip. Around dinner we were at MGM Grand, so Scott made reservations for us at the Wolfgang Puck Bar and Grill. We had another terrific meal, and to top it off, Wolfgang himself appeared beside us just as we were finishing our desserts. He stopped long enough to speak to us and shake hands before hurrying off. You never know who you will run into in Vegas.

From Las Vegas I headed over to San Francisco, where I was originally supposed to meet up with this slacker friend of mine. I had never been to San Francisco, or California for that matter, so I was pretty excited about this trip.
You may remember back in July I went up to Austin to see Elana Fremerman play with with Cindy Cashdollar and Doug Davis. While I was there I met Mel Chapman, an extremely nice guy who seemed to be a living encyclopedia for the music that I love. He was visiting Texas from California, and offered to show me around San Francisco if I ever made it out that way. So, when I had secured my plane tickets, I sent an email to Mel to let him know about my trip. Mel pointed me in the direction of an inexpensive and clean hotel in SF, and told me about several music hot spots that he suggested I try to see. I am not sure how the trip would have turned out without all of Mel's help, but I know I would have been much, much more lost.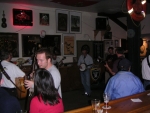 On Monday night I decided to head over to Alameda and check out the bluegrass jam session at McGrath's Irish Pub, which Mel had recommended. I arrived between 8:30 and 9:00, and by that time there were already around 20 musicians gathered in a circle. It had been a long time since I had seen anything like this, and it sounded absolutely terrific. I can remember 4 fiddles, 4 mandolins, at least 6 guitars, 2 banjos, an upright bass, and a guy playing harmonica. I pulled up a bar stool, grabbed a Fat Tire, and listened to some excellent music for the next 2.5 hours.
The next day I decided to drive down to Silicon Valley. I took Highway 101 down there, drove by the Google headquarters, and then found my way over to 1 Infinite Loop, Cupertino CA. I went into the retail store they have there and bought some Apple swag, including a couple t-shirts, a mousepad and a pen. Yes, I know that I am a total Mac fanboy, so you can stop telling me now. On the return trip I drove up Interstate 280, which was a complete surprise. Where Highway 101 was mostly commercial, I-280 was almost entirely scenic. It was hard to keep focused on the winding road because I kept looking out the window at the foggy little mountains on the left, and the rolling pastures on the right. After getting closer to the city I spotted an In-n-Out Burger, so I had to stop for a snack. I spent about an hour driving around San Francisco, which only resulted in frustration. I stopped by a few stores, and later that night I walked over to the Fisherman's Wharf to meet up with some other Rackers who were in town.
The next morning Mel drove down to give me a tour of the city. We started the day by driving over to Berkeley and visiting The 5th String, a music shop with an excellent selection of guitars, mandolins and banjos. We stayed for about half an hour and played many of the instruments before leaving. The 5th String is one of only 5 "Gibson Acoustic Instruments" dealers in the U.S., and with my visit to the Mandolin Brothers store in Staten Island earlier this year, I have now been to 40% of all the places in the U.S. where you can buy a Gibson Mandolin.

After leaving The 5th String, Mel and I headed over to the U.C. Berkeley campus. We walked along Telegraph Street for a while and stopped by Rasputin Music, Amoeba Music, Moe's Bookstore and several other shops before grabbing a late lunch at an Ethiopian restaurant. Berkeley was pretty much exactly how I expected it to be.
It was 3:30 by this point so it would be getting dark soon. One of the things Mel had suggested that I see was Muir Woods, so we decided to head over there before the park closed. I've seen some impressive trees before, but nothing quite like these big boys. Even though the park is only a little over 10 miles from San Francisco, when you are out in the middle of these big trees there is nothing but complete silence. If you didn't know better, you would never know that you were that close to a major U.S. city. We walked around the park for about 45 minutes (until it got dark), and then headed down to the Golden Gate Bridge.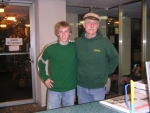 The Golden Gate Bridge is one of those things that I had always heard about, but I had never really thought much about it. As we drove across the bridge, parked the car, and then walked back across it, I began to realize how incredible it must have been back when it was completed in 1937. The wind was blowing really hard, and there were people bicycling back and forth across the bridge. Every few hundred feet we would stop and look over the edge to see the city lights, and Mel would tell me another interesting fact about the city, or point out some building over in the lighted hills. What an amazing place.
When we left the Golden Gate Mel drove us back into San Francisco where he showed me a few more places around town, including Lombard Street, the "most crooked street in the world." By this time it was getting to the point where Mel needed to leave to head back to his home. He had driven 2 and a half hours down from his home in Placerville that morning to show me around the city. Mel is one incredibly nice guy and I am truly thankful that he took time to come show me around. I would have certainly missed out on seeing a lot of fascinating things if I did not have him for a guide. Thanks Mel!
While at the Rackspace Halloween party the previous week, Annie told me that I needed to have sushi while I was in San Francisco. This sounded like an extremely good idea, so I asked if she could get the names of some good sushi restaurants. After reviewing the recommendations she gave me, I settled on Ebisu and started the drive over there.
And I drove.
And I drove some more.
And I got lost.
And I ended up on some hilltop.
And I backtracked.
And I got really hungry.
And I began yelling at stop lights, and curvy roads, and hills, and cautious drivers.
After what seemed like an hour, I finally found the restaurant.
Whew.
(According to Google Maps, this should have been a simple 11 minute drive. I would have taken this route if only I had known about it. The hotel did not have wireless, so I was stuck with only my imagination and a car — apparently a noxious combination in SF.)
Once inside Ebisu I sat down at the bar and began looking at the menu. The Itamae was extremely friendly and chatted with me the entire time I was there. I started with a Boston Roll, and it was without question the best roll I have ever had. The six pieces disappeared much faster than I was expecting, so I looked at the menu again and asked for the 49er Roll. From my seat at the end of the bar I could see everything the Itamae was doing and it was so fascinating. In the same way that I can spend hours watching construction machinery move materials around and dig holes, I could have sat there the entire night and watched him transform the raw ingredients into the works of art that everyone was enjoying. Even considering the expensive food I had the previous days in Las Vegas, this $16 dinner was one of the best meals I could remember.
As I left the restaurant and began walking back to the car, I thought that it would be absolutely perfect if I could find a little coffee shop to stop in for a while and check my email. Well, wouldn't you know there would be an incredible little place called The Canvas Gallery on the next corner! As I walked by the window I could see several Apple laptops inside, so I knew I was at home. Outside the door there were couches with several people playing guitar and hanging out, and I wondered why you don't see that in more places. Inside there was an area where a bunch of people were playing cards, and another area where lots of people were listening to a girl sing and play the guitar. I found a table near all the other computer users and opened up my laptop. In San Antonio (and most places, for that matter), I have become used to having to pay for wireless access at coffee shops, airports, etc. So, it was really nice when I joined the Canvas wireless network to see a message that simply said "The Canvas Network: Help Support FREE WiFi – Get a coffee once in a while." I experienced the Apple brotherhood, stayed for about an hour, and then finally accepted that there was no way to avoid it: I was going to have to drive back to the hotel.
The next morning I awoke with the sad realization that my trip was over, and that I had 2.5 hours to get ready and to find my way to the Oakland airport. It felt like I had just arrived and that there was so much more that I needed to see and do. Sigh.
Oh well, one day.