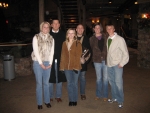 I spent the weekend with some friends in Virginia at Wintergreen Resort.
The event was great because almost all of us had something to celebrate. Rebecca is (finally) graduating from Pharmacy school, it was Pete's birthday, I finished paying of my college loans, and Scott was celebrating the fact that Rebecca is (finally) graduating.

Sarah and Elissa helped to get the party started. Its not very often that this group of friends gets together, since we all live in different parts of the country, but when we do it is a lot of fun. Unfortunately I was never able to meet up with Tate and his entourage while we were all up there (sorry Tate!), but I've already told them that next year we have to plan a trip out west.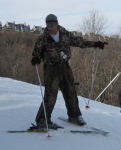 I've been skiing and snowboarding at Wintergreen since the fourth grade, and it always seemed like such a fun place. But after spending several days snowboarding in Colorado my perspective on east coast slopes is a little different now. The snow is so slippery and icy, the slopes are short and crowded, the lift lines are long, the lifts are slow, and the people are dangerously novice at best. People also appear to have attitude problems there as well, but that seems more like a general east coast issue.
But, then again, there are a lot of mountain men up that way and you tend to see some interesting sights, like the guy in the picture to the left. Notice the camoflague hunting overalls doubling as skiing attire, and the awesome "pizza" stance.
It was a very quick trip, but we had a great time.