May 23, 2007
When in Rome….
• • •
May 2, 2007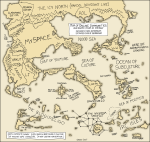 This is a pretty neat map of the social networking type sites on the Intarweb.
At first I didn't understand the "Gays of Web 2.0″ joke, but then I saw the "Straights of Web 2.0″ next to it and then it was funny.
You're The Man Now Dog made the map (my favorite ytmnd). The name of the YTMND island is even funny if you are familiar with the URLs on that site.
Blogipeligo is an interesting word.
Apparently Soviet Russia is now somewhere between reddit and del.icio.us.
Funny how the "Bay of Angst" is off the shores of LiveJournal and Xanga.
• • •