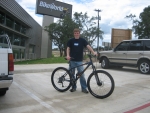 Several friends have been after me for a while to get a bike. It always sounded like fun to me, and I've been trying to make an effort to get outside more and pick up some hobbies that included physical exercise. So this weekend I went to Bike World and brought home a Gary Fisher Piranha.
It took me a while to decide on a model, but I rode this one and really liked it. The only thing I wasn't 100% with was the color and style of this one, but in the end I finally accepted that "looks" shouldn't be the determining factor for not buying a bike. Some of my friends have road bikes, and I thought about that, but I think this style will end up suiting me more.
I mostly want to just tool around my area of town and ride to dinner, although I probably will end up going on rides with friends as well.
Woot!