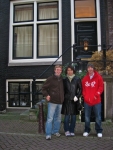 This past summer as my thirtieth birthday began to creep up on me I decided that I wanted to have something fun to look forward when the day finally arrived. I decided that I wanted to celebrate the occasion in Amsterdam.
Prior to this trip I had only spent one day in Amsterdam, when Jason and I visited there in June of 2006. I remembered that the city was beautiful and the people there were very nice.
By way of VRBO I found this great place to stay in the heart of the city called the Amnesia Apartment. It's a standard Amsterdam style house – tall and thin. The Amnesia is five stories with a room per floor and a jacuzzi on the top floor. There is a tiny, tiny staircase in the back of the building that goes from the kitchen in the basement to the 4th floor bedroom.
Tate and I arrived on Monday morning, October 12th, and Sandy arrived the next day. Once she joined us we starting seeing the sights and eating at some great restaurants. Tate created a Google map of the places we visited during our stay. Here's a rundown:
Restaurants
Attractions
Other stuff we did or saw while we were there:
The trip worked out even better than I could have planned it. The weather was wonderful for almost the entire week we were there, and the apartment turned out to be exactly what we wanted and in an excellent location. Amsterdam is such an incredible place. Everyone is so friendly, the city is beautiful, and it's very easy to get around and communicate with people. All the pictures from the trip are available in my gallery.
Great friends, great place, great time!