Auckland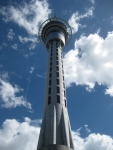 After a 6 hour flight on Thursday, March 4th from New York to Los Angeles, a 3 hour layover in LAX, and a 14 hour flight from L.A. to Auckland, Jason and I finally arrived in New Zealand on Saturday morning to begin our trip.
After making our way through customs we found and hired a "super shuttle" to take us to our hotel. The super shuttles wait until they have a fun van of passengers and then leave for the city and drop the passengers off at their destinations one by one. Imagine our driver as what would happen if the Dukes of Hazzard decided to become taxi drivers in New York. We were in the back of the van, and were the second to last to be dropped off, so when we finally arrived at the Auckland City Hotel Hobson we were on the verge of blowing groceries. Oh well, it didn't last long, and at least we were now on our own.
By now it is Saturday afternoon, March 6th. While walking around downtown Auckland we stop by Kiwi Country Fried Chicken and Fish, which was not what it sounds like. In fact, it was the best Chinese food I've eaten – I had the spicy prawn noodles. After eating we walked down to the piers in the Auckland harbor and checked out the sailboats for a while, and then found a little coffee shop with wifi so we could briefly catch up. Afterwards we took a little break and went back to the hotel to figure out what to do next. (If you remember anything about our last trip, you'll know that Jason and I don't make plans. We just wander around and wing it as we go. This works out well for us as we often find things along the way that send us in entirely different directions.)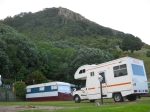 For dinner Jason found this incredible little authentic Italian restaurant called Covo. We got foccacia bread and caprese for appetizers and then split a large pizza for our main meal. Fantastic stuff. After dinner we walked around the city a bit more before heading up to the top of the Auckland Sky Tower. This is the space needle looking thing that rises above everything else in the Auckland skyline, and there are incredible views from up there. Jason was able to get some nice photos with his slightly-more-expensive-than-a-canon-powershot camera.
The next day, Sunday, we picked up our RV, a Britz Explorer. This whole process was amazingly simple, which sort of became obvious later in the trip when you realize that about 5-10% of all cars on the roads are rental camper vans. The camper was very clean and in great shape when we picked it up. They have you watch a quick 5 minute DVD on how to use all of the electrical and water hookups. After picking up the RV and making a quick stop for groceries, we were on the road!
Tauranga
On Saturday night we were still trying to figure out where we were going to go with the RV once we picked it up. I'm not sure when, but at some point we thought it might be cool to drive east to the coast and stay at Tauranga. We had found what looked to be a pretty cool campsite there, so off we went.
We drove 3 hours southeast to the coastal town of Tauranga. I spent most of the time trying to wrap my brain around driving on the left side of the road. Once you are going it's fine, but making turns is insanely confusing, especially right-hand turns. It took 3-4 days for me to get comfortable, and even still it seems about once a day Jason reminds me that I'm turning into the wrong lane.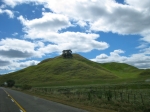 It was around 7pm on Sunday, March 7th when we arrived at the Mount Maunganui Beachside Holiday Park. This a camper park situated right at the base of the Mount Mauao Reserve (it's a little mountain), and on the Pacific Ocean. The views from here were really amazing. We wandered around for a bit and then stopped in at Cafe Turkish Delight for dinner. After dinner we found some paths that lead us to the top of a small hill overlooking the ocean, and from up there we noticed that we could walk out to Moturiki Island. On our way down we ran into some guys from Switzerland, Phil and Fabian, and they invited us to join them for a beer at the Mount Mellick Irish Pub, so of course we did. We hung out with them for about 3 hours and chatted about New Zealand (Phil has lived in NZ for the past 4 years), and about travel in general. When Fabian learned we lived in Texas he shouted out "Chuck Norris!". Yes, that's right, the Swiss love "Walker, Texas Ranger."
We've been waking up around 6am every morning and so we were able to catch the sunrise over the Pacific Ocean, which was pretty cool. We then headed to the Side Track Cafe for breakfast, which is right on the ocean. After breakfast we cleaned the RV, packed up, and left the camper park. We stopped for lunch at the Gusto Cafe.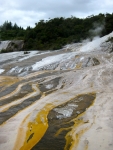 Orakei Korako
We left Tauranga around 1pm on our way to Taupo. Along the way we kept seeing these towers of steam everywhere. Curiosity finally killed the cat and we decided to track one of these things down. After driving 30-45 minutes into farming country we ended up at the Orakei Korako cave and thermal park. The thermal activity is fascinating, both visually and audibly. There were bubbling pits of mud, colorful streams of hot water, and a very big cave. Jason got a pretty good video of all of it that I'm sure he'll post somewhere later.
Taupo and Lake Taupo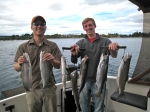 After our thermal park detour concluded we continued on down to Taupo. We arrived there around 5pm, drove around a bit, found the harbour, and decided to park for the night at the Absolute Lakeview Motel, which is on the lake and within walking distance of most of the towns restaurants and shops. After getting settled in we walked over to Dixie Brown's for dinner (because they have free wifi!

)
The next morning we were up at 6am to meet Fish Lake Taupo Charters and Grant Lister. Grant is almost the stereotypical fishing captain. Salty, foul-mouthed, and funny as can be, we really enjoyed our day with him. We had a great day on Lake Taupo, and even caught some trout! It is illegal to sell trout here so that the lake isn't commercially exploited, but you are allowed to take anything you catch to a restaurant and they'll prepare it for you. We kept three of the trout we caught and hauled them with us down to Wellington where we filleted them and grilled them up ourselves. We thought this was pretty awesome, heh.
Wellington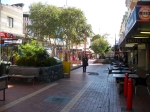 We woke up at 6am, fished from 8am to 2pm, then drove non-stop for five hours to Wellington. I was pretty tired by the time we got to Wellington. But that was ok, the scenery along the drive was absolutely gorgeous, I've never seen anything like it. Once we arrived in Wellington we got slightly lost. Getting lost in a foreign country, driving on the wrong side of the road, in an RV can be a bit frustrating. Eventually we found and stayed at the Top 10 Wellington Holiday Park in Lower Hutt on the other side of the Wellington Harbour, which turned out to be a quite nice place.
Once we parked and plugged in we pulled the three big trout out of the fridge, found a picnic table, and started some really amateur trout filleting work. After the butchering was done some fellow campers loaned us some salt and pepper so we could give the fish a little seasoning, and then Jason cooked it up. To my surprise, it was delicious!
The next morning, Wednesday, we were up at 6am again and drove over to Wellington to explore for the morning. Wellington seems like a really cool town, and reminded me a lot of San Francisco. We parked the RV on the street (almost taking out a stop sign), and wandered down Cuba Street and around the Te Aro district. I can see why Debb and Matt chose Wellington.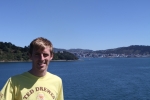 We had scheduled a 1pm ride on the ferry to haul us and the RV over to the south island on the
Bluebridge Ferry from Wellington to Picton on the Santa Regina. The ride took about 3.5 hours and was some of the most beautiful water and coastline I've ever seen. On the ferry ride across Jason some how ended up in a conversation with a professional illusionist and a 50 year old death metal musician. It was mental!
There's not much Internet available down here, and when we do find it it's not free, so we aren't doing much blogging or posting of photos. That situation may improve once we get to Australia next week. The photos that we are able to upload are available in my gallery.