(I wrote most of this back in March while we were traveling in NZ.)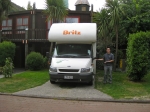 We arrived in Queenstown and parked the Britz (this is how we refered to the RV) at the Queenstown Top 10 Holiday Park "Creeksyde", which turned out to be a really nice place with good facilities. The parking spots were a little small, but I was able to maneuver the RV into place. We got settled and then walked a few minutes over into town. Queenstown was bustling on this summertime Saturday night. After walking around for a bit we discovered a little yakitori restaurant called Daruma Japanese Sake Bar (which doesn't appear to have a website), and it turned out to be excellent. After dinner Jason spotted a skydive company, and suggested that we should do it. My response: absolutely not.
While we were out we found Internet access at a Starbucks and decided to see if there was a camper park at Milford Sound. As it turns out there is only one, the Milford Lodge. We decided to reserve a spot for the next night. This was the most advanced planning that we did for pretty much the entire trip.
The next morning we packed up the Britz and set out for Milford Sound. Milford Sound is considered to be the #1 attraction in New Zealand, so we figured we had to see it. We had heard about people flying there, and taking boats, but we decided that since we already had an RV that we might as well drive there. The drive out there takes about 3.5-4 hours because you have to drive out of the way to get to Milford Sound. The drive is beautiful though, and you end up passing through some really gorgeous mountains. The winds along the way were out of control, and it was tough just keeping the RV on the road. We stopped several times to take pictures, including one place beside this giant snow cave.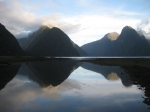 We finally arrived at Milford Sound around 5pm on Sunday evening (March 14). We checked into the camper park (which was now full and had zero vacancy, good thing we pre-booked!), and walked down to the Sound. On the way we stopped by the Milford Helicopters office and asked about getting a tour over the fiords. The guy there told that there were no more flights that day, but to come back in the morning. We arrived at the Sound just in time for sunset, and it was just as beautiful as it is on all of the post cards. We spent some time on the Sound, took a bunch of pictures and chilled for a while, then walked up to the only restaurant near the sound, the Blue Duck.
On the walk back to the Britz we decided that this place was way too awesome to only spend one night and day, so we walked back into the camper park office and booked a second night. We went to sleep relatively early so that we could get up early to see the sun rise down at the Sound. The next morning we headed down there, caught the sunrise, and got some great pictures. It was a Monday morning and at this point there was no one there except us. It was awesome.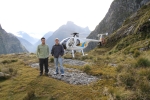 After seeing the sunrise and hanging out in the Sound for about an hour we decided to walk back to the RV campsite and get some breakfast. Along the way we stopped by Milford Helicopters again and asked about a tour. We met Snowsie, one of the helicopter pilots, and he told us that they only make trips with three or more people, so unless we wanted to cover the cost of a third person that we'd have to wait until someone else showed up and wanted a tour. It was about 9am at this point, so he told us to check back at noon and if anyone showed up that he's schedule us with them. We started walking back to the camper park, and about 5 minutes down the road an old truck rushes up next to us and it's Snowsie. He tells us that a guy just rode up on his motorcycle and wanted a helicopter tour, and wanted to know if we were ready for the tour. Of course, we jumped at the opportunity and rode back down to the helicopter site with him. Perfect!
The helicopter tour ended up being one of the highlights of the entire trip. We briefly landed on top of one of the fiords and were able to get a few pictures. Jason stepped over to the edge of the drop-off, but I have a tiny fear of heights so I stayed away. All total the trip lasted about 30 minutes. Here's a video I put together using footage Jason shot during the flight.
Afterwards we walked back to the camper for lunch and then walked around trying to find somewhere to rent kayaks. We finally gave up and decided to take one of the boat tours through the Sound and out towards the Tasman Sea. It was nice too, but after the helicopter tour nothing else really could compare.
We had dinner again at the Blue Duck and then went back out on to the Sound to hang out until sunset. It was incredibly relaxing to sit out on the Sound and pluck on my ukulele. Jason took the opportunity to get some really nice photographs of the Sound.
The next morning we got up, had some breakfast at the lodge, then packed up and headed back to Queenstown. Several times along the 4 hour drive back Jason brought up skydiving. I never gave him much of a serious response, because it wasn't a serious question for me. But I had plenty of time to think it over on the drive back, and I eventually convinced myself that I could do it if I didn't think about it.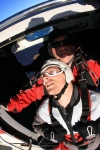 When we got back to Queenstown I told Jason that I'd go sky diving with him. We walked into town and over to the skydiving shop, and as soon as I walked in and saw the pictures on the walls of people jumping out of planes I immediately reneged. No way. Jason sort of laughed and suggested we forget about it for the time being and grab dinner, after all, the shop would still be open for another 3-4 hours. We found dinner at Hell Pizza and then wandered over to Starbucks for a little Internet time.
While at Starbucks I spent some time thinking about skydiving and why it terrified me so much. I have a horrible fear of heights and I feel sick at my stomach whenever I stand near an edge and look over, even inside a tall building. (the glass might pop out?) I tried to figure out what part of this experience caused me to feel ill. Eventually I realized that what I'm really afraid of is falling, not heights. Looking out of a window on an airplane doesn't bother me at all, probably because there is no chance I'll fall out. Once I understood this I decided that skydiving shouldn't be trouble because I would be intentionally falling in a controlled way.
I knew Jason was waiting on my decision so I told him to go ahead and go back to the skydive shop and book two dives for the following morning. I also told him that I didn't want to talk or even think about the dive any more until it was time to show up for it the next morning. I didn't want to talk myself out of it again.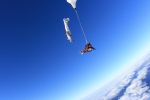 That night I barely slept at all, despite keeping my mind busy with other things. Anything except jumping out of airplanes. We got up at 6am the next morning, moved the Britz out to the street, and walked into town to be at the the skydive shop by 7am. We were scheduled to dive at 8:30, but we had to watch some training materials and go over the basics first. Finally we loaded up in a van and headed outside of town to where their airstrip is located.
I got selected to be in the first group of 3 to go up, and got split from Jason in the process, which annoyed me since I was already a bit on edge. I protested at first, but then they told me that if they didn't split us then they'd have to split a father and his young daughter, or a split a pair of special needs teenagers. It bugged me, but not so much that I wanted to be a jerk about it. So, I was the first person loaded into the first airplane of the day, with the two teenagers filing in after me.
It took 5 or 10 minutes for us to get up to 12,000 feet, and the whole time I kept my mind busy by looking out the window at the beautiful mountains. Occasionally the photographers would ask us to pose for the camera, but other than that I remained focused on looking out the window. The other two guys were so excited, but in the video you can see that I clearly am not.
Skydiving near Queenstown, New Zealand from Cory Wright on Vimeo.
Finally we reached 12,000 feet and people started jumping out of the plane, in reverse order. Finally it was my turn and I slid to the door, put my legs over the rail on the edge of the plane, and temporarily drifted into some other world. There is about 10 second gap in my memory at this point. When I came to I was tipping over out of an airplane, and then suddenly things were really fun. It wasn't scary at all, but rather pure joy, and I remember for a split second thinking how sad it was that this would only last for 45 seconds.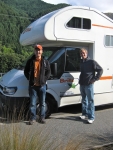 After falling for 45 seconds and 7000 feet the master diver opened our parachute just as we entered the clouds. As we drifted back to the ground for the next 5 minutes I remembered that I had expected the parachute descent to be the best part, but now it seemed so boring compared to what had just happened.
Once back to the ground I went out to watch for Jason (he was on the next plane after me), and then we waited for a bit until the shuttle took us back to town.
We got back, took one final picture of us with the Britz, and then drove it to the Queenstown airport to drop it off and catch our flight to Cairns, Australia. We had seen everything we hoped to see in New Zealand (and more, really), and driven the Britz over 1500 miles in 10 days. Success!