I'm finally publishing this blog post over 4 years after I began writing it.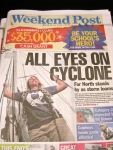 Jason and I arrived in Cairns late on a Wednesday night after a long day of flights starting in Queenstown, NZ. Earlier that day Jason had found the Heritage Cairns on TripAdvisor and booked a room for us. The Heritage Cairns turned out to be a really great place to stay. When Jason called to book it they asked what time we would be arriving, which was to be around 9pm. Our flight was delayed and we didn't arrive until after 10:30 and when we got there an older woman was waiting for us at the front desk. She was one of the owners and had waited up for us. After checking us in she told us that the sea was going to be rough the next day and gave us a box of motion sickness pills. This act of kindness ended up being a huge help. We didn't know it that night, but Category 5 Cyclone Ului was headed right for us at the time.
We were exhausted from the day of travel and were finally about to get some sleep in real beds for the first time in almost two weeks. The camper in New Zealand was great, but make no mistake about it, I was looking forward to a real bed. We passed out immediately, in fact, I think I passed out on top of the bed with the lights still on. About 2 in the morning there was a loud explosion in the room, right next to my ear. I immediately jumped up, awake. I looked to the side of my bed, and there was a CFL bulb on the floor, and in many pieces. It had exploded and destroyed the top of the lampshade by my bed. I hope I'm never awoken like this ever again.
The next morning we were up early to get down to the Esplanade to meet up Tusa Dive for our guided certified diving tour. It was around this point that we began to realize the weather could get rough that day. This dive company has a huge boat, the T5, that is designed for scuba trips.
Awesome breakfast at Perrotta's at the Gallery
Ganbaranba – Japanese noodles